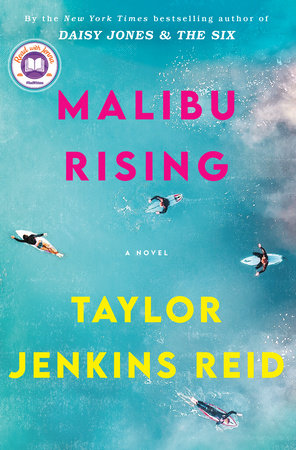 Nina is just not sure she has it in her to go through with her annual Malibu bash this year, given her current, very mortifying, so painfully public circumstance. How could she have been so foolish as to have trusted Brandon with her heart, especially after watching her mother go through this very same thing?  Unfortunately, since no one is actually invited to these parties – they just come! – ,she cannot disinvite them either.  She is committed and she'll get through this just as she has every other hardship she's had to endure through her young, somewhat glamorous, but inwardly difficult life.  And she'll take care of her siblings as they confront their trials and tribulations as well, just as she's done all of their lives. It's just the way it has to be.  Well, it certainly feels that way…
Taylor Jenkins Reid has a flair for delving deep into the hearts of the glitterati, often revealing the dark underbelly of fame.  While so many crave the spotlight, Jenkins Reid exposes the isolation and the emptiness that often lies there.   As she narrates the tale of Nina and her siblings and their current day issues, she also flips back in time to the story of Nina's parents: her "Elvis"-like father who lusts after stardom almost like a drug, to the exclusion of everything else, including Nina's mother, and his own children.  This strongly contrasts with Nina, who has achieved her own degree of recognition from her new, but quite successful, modeling career,; however, Nina shies away from the attention when she possibly can.  She is utterly devoted to her siblings, and while this is difficult, she also has their love and support always.  There is a clear and present message here.  
And yes, there is quite a bit that is predictable here.  And yes, there are many stereotypes here.  But it is a fun read, with some twists and turns, and some crazy surprises, especially as the big, Malibu bash gets going.  There  is no end to the trouble these stars cause!
Not a MUST-READ, but definitely a fun read!  Enjoy!