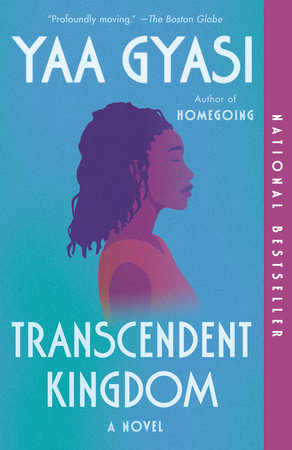 Gifty is striving to complete her final doctoral thesis in neuroscience on addictive behaviors. She knows she's obsessing over her data, and that she needs to move on to the writing of the final paper, but her past has come back to haunt her and she is stuck.  It may be that the visit from her mother, drowning in her own pain, will nudge her forward.  Or will it be her sifting through her old journals from her youth?  Somehow, Gifty works through a resolution and confronts the deeply painful religious, emotional and philosophical issues that are holding her back. 
This memoir is a recounting of a second generation immigrant from Ghana who suffers multiple layers of trauma during her childhood,  while seeking and finding little community support in her small town, Southern evangelical church.  Needless to say, her struggle is complicated.
One recurrent theme is the conflict she feels between religion and science.  Having memorized large swaths of scripture for her mother's approval and having limited experience outside her small, Bible belt town in Alabama until college, she has a deeply ingrained emotional connection to her religion and to a traditional belief in God.  On the other hand, her more cerebral side has rejected much of the dogma the church espouses; whether the narrow views on sexuality, the scorning of evolutionary theory, or the criticism of science in general.  So when a fellow student criticizes those who are religious, she is not quite sure what to feel, but she is simultaneously insulted and embarrassed.  She identifies with those being criticized but also sees why they are being so.   
The other inescapable message here is the devastation that occurs when a family member has an addiction. Not only does the addict suffer, but everyone around him suffers as well.  When Nana, Gifty's brother disappears, she and her mother spend hours searching for him to try to bring him home to safety.  When he is not functioning, the whole family is not able to function.  And the cycling and unpredictability has devastating effects on everyone for years to come. 
This very real story hits hard and is a hard read.  We are very fortunate that the author has chosen to share her experience with us.